NYC Show Ends on High Note
Thursday March 24, 2011 | Filed under: ASI Shows, Community, Members, News About ASI, Using Ad Specialties
ASI just wrapped its New York City trade show and I'm pleased to announce an increase in distributor firms of 4% over last year.
Like an army of dedicated mail carriers, 2,400 distributors from 16 countries braved unseasonably cold weather and surprising spring sleet and slush to head to the Javits Center this week.  
One of my favorite events was Thursday's speed-networking session – the industry's biggest. Click here for my Tim's Take on the session and an interview with ASI's professional development manager, Dana Reaume (pictured below).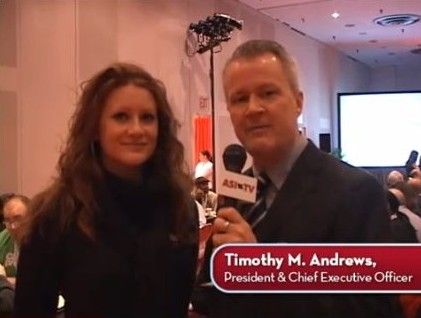 How many of you hate getting your photo taken because it never looks professional enough? We hear you, which is why we set up the ASI Social Networking Booth, where a professional photographer will take your photo for use on all your social media sites. Perfect for your Facebook page.
So far, nearly 500 members have taken advantage of this free service. If you missed it at the New York show, don't worry. We'll be in San Diego, May 18-20, and in Chicago, July 19-21. I promise you, it's a snap. Click here to take a look.
The New York show is always one of my favorites because I worked in the city for so many years and it always feels like going home. I love seeing old friends and checking out all the innovative new products. This year, we saw thousands of items showcased by 350 suppliers, including more than 100 exhibitors who weren't in New York last year.
We got tons of positive feedback from suppliers and distributors who were excited by steady traffic during the two exhibition days. Jeremy Rich from Debco (asi/48885) heard great things about the 75 new products his company exhibited and Lindsay Mortensen from SnugZ USA (asi/88060) described the show as a good mix of quality and quantity.
Distributor Gary Goodhart from AIA Corporation (asi/109480) said they bring sales reps in from all over. "They really benefit from the great education," he said, "meeting with suppliers and seeing everything that's new for the year."
Let me know what kind of show experience you had and if you have any suggestions for next year by posting a comment or emailing me here. I'm also on Twitter, LinkedIn and YouTube.