Move Over, Doom and Gloom
Monday October 24, 2011 | Filed under: Research
In my experience, the one trait shared by successful business leaders is confidence. The more confidence you have in yourself and your company, the more you inspire employees, clients and potential customers.
Confidence is so critical, it can even impact the economy, according to a recent government report. Even though the economy is creeping upward (retail sales rose 1.1% in September, exceeding private sector expectations of a 0.7% advance), consumer confidence remains gloomy.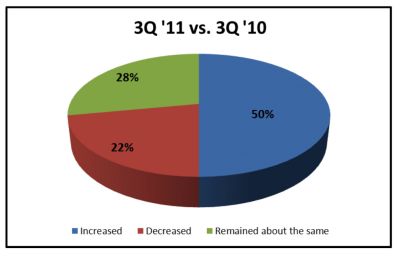 A recent Q3 industry survey found much of the same doom and gloom. Even though sales rose for the 7th straight quarter, distributor confidence has dropped nearly 20 points in the last year.
In ASI's Q4 2010 survey, 75% of all distributors felt sales for 2011 would be higher than sales in 2010. In our just-released Q3 2011 survey, only 56% of all distributors feel sales for 2011 will be higher than sales in 2010.
Overall, the industry news remains positive: During the third quarter, there was a 5.1% year-over-year increase in sales among ASI members, which translates to an increase in sales of $221 million over the third quarter of 2010. One-half (50%) of distributors reported an increase in the third quarter. Sales for the third quarter of 2011 were approximately $4.6 billion.
No one living through this extraordinary period is peering through rose-colored glasses – not in the face of declining incomes, high unemployment and government distrust. But whenever we feel our confidence shaken, it might be worth considering the good news that is indeed out there.
Keep investing in your business and your people and continue exploring new marketing opportunities and technology. In other words, stay as confident as our recession-busting industry allows. You have good reason.
And for more info, click here.
Let me know what your Q3 experiences have been – and what's giving you confidence – by posting a comment or e-mailing me here.