Let the Countdown Begin
Thursday August 25, 2011 | Filed under: Members, News About ASI, Research
Everyone has their own definition of what makes a great place to work. For some, it's salary all the way. For others, it's great benefits or a fun corporate culture.
To learn what rates in our industry, Counselor magazine conducts an annual Best Places to Work survey. And starting today, you can check out the countdown of the top 85 companies employees deemed "best."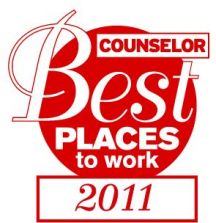 Every day we'll reveal another set of companies on the list, leading up to the big No. 1 "reveal" on Monday. To check out the countdown, visit the home page of ASI's website.
How'd we do it? A total of more than 4,000 employees answered an in-depth survey conducted by outside research firm Quantum Workplace. Counselor Editor Andy Cohen said three themes run through the 85 companies that made the list: teamwork, recognition and fun.
Inside Counselor, which should hit your mailbox soon, you'll discover story after story of winning corporate cultures that benefit employees, customers and the bottom line. As Andy says, "The employees and management are so engaged – not just with their jobs, but with the whole organization – that they're willing to do anything for customers. Roles are defined, but those roles are meant to be broken – always for the betterment of the company."
While researching for the Best Places to Work issue, three Counselor editors drove cross-country in a rented SUV visiting a number of top companies and no doubt keeping an eye out for America's craziest roadside attractions. To see videos, picture galleries and blogs by Melinda Ligos, Andy Cohen and Joe Haley, click here. 
What do you think makes a superior place to work? Let me know by posting a comment or e-mailing me here. I'm also on Twitter, LinkedIn and YouTube.