Laura Bush Inspires Dallas Crowd
Friday February 18, 2011 | Filed under: ASI Shows, Members, News About ASI
Former first lady Laura Bush wowed a standing room only crowd of nearly 600 at our keynote address in Dallas Friday morning. The audience laughed, cried – and gave her several standing ovations.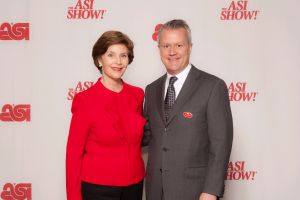 Mrs. Bush described life in and out of the White House and spoke of finding her identity as First Lady through advocacy on issues near to her heart, such as improving education, literacy initiatives and enhancing the lives of women around the world through education and health awareness.
"To sit here and hear her say that we're women and we can do anything and this is a women's world was moving," said Norma Westphal of Proforma JETT Eagle Advertising. "She made me cry."
She got a huge laugh when she showed off her favorite promotional item – a Laura Bush bobblehead (pictured) her aides found in a Washington, D.C. gift shop shortly after the Bush presidency ended. The worst part? The bobblehead was already on the discount rack.
Mrs. Bush also spoke of her first night in the White House. After a whirlwind of inaugural balls, she lay down with aching feet and felt only peace because her immediate family was safe and together. "How often do you have nearly everyone you love under one roof?" she asked.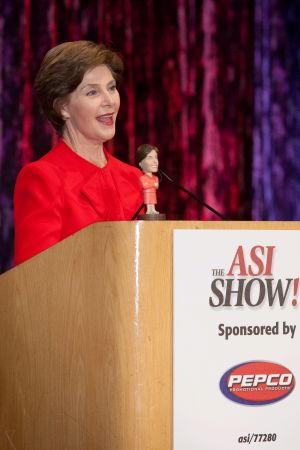 She spoke movingly of the turbulent times surrounding September 11, and recounted how a secret service agent first informed her of the attacks. She said she sat stricken with Senator Ted Kennedy in his office as the scope of the tragedy became clear and that night she and her husband hunkered in a subterranean bunker, fearing a direct attack on the White House.
"We awoke on September 12 to a different life," she said. In addition, she mentioned the personal pain her husband felt when he talked with families of military personnel killed in Iraq.
Mrs. Bush also discussed her Texas roots and said she and her husband were glad to be living again in the place they've always thought of as home." We're living the afterlife in a state George calls the promised land," said Mrs. Bush.
She was a genuine crowd-pleaser. "I really liked her humor and all the tidbits about her life that she shared," said Martha Smith of AIA/RC Sales.
During an afternoon keynote, Mrs. Bush addressed attendees at ASI's second annual Women's Summit at the Adolphus Hotel. Highlights included her thoughts on how empowering women is the most effective way to improve a society's quality of life. She also shared details of her initiatives as first lady, such as advocating for women's rights in Afghanistan and promoting women's health.
If you were at the keynotes, let me know what you thought by posting a comment or emailing me here. I'm also on Twitter, LinkedIn and YouTube.