Keep Calm and Marry On
Monday April 25, 2011 | Filed under: Using Ad Specialties
Everyone loves a wedding, right? But there's no question a walk down the aisle costs money. On average, couples spend $24,066 on wedded bliss – and that's minus the cost of the honeymoon and engagement ring.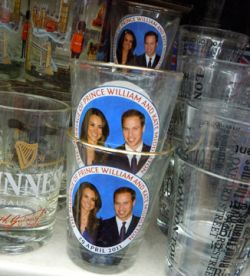 Lucky for England's William and Kate, much of the bill for their royal union is being paid by the Queen, the Prince of Wales and the Middletons. Taxpayers, however, must foot the cost of security, which some say could be the costliest in history, considering the number of royals, senior politicians, VIPs and diplomats expected.
It seems everyone – including the promo products industry – is jumping on the wedding bandwagon. As ASI's Counselor magazine  reports from London, Friday's nuptials are causing a royal run on wedding-related memorabilia and promotional products.
Click here to read the Counselor story on the promotional trend and click here for a reporter's blog with photos of some of the products.
This week, the "Joe Show" featured some of the many wedding products our reporter tracked down and shipped back to the states, including a commemorative booklet, tea cup, heart-shaped compact and even ashtray. My favorites are the Wills and Kate masks I'm sure Joe will be wearing Friday morning when he tunes into the wedding along with about 2 billion others. Click here to watch the special edition "Joe Show."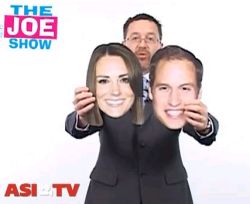 Counselor's reporter interviewed a number of manufacturers and distributors about the mugs, plates, commemorative pens, William & Catherine compacts, ashtrays and even shot glasses available for sale.
For those in need of a laugh, there's even a commemorative plate reading "Thanks for the free day off," a "Keep Calm and Marry On" poster and "Kiss Me Kate" beer.
Lucy Stuart, co-owner of Norfolk, UK-based distributor S R Print and Design, says the breadth of products available makes this occasion the biggest for promotional product consumer sales since the change of the millennium in 2000. The Telegraph newspaper reports the sale of royal wedding merchandise altogether could top $42.5 million.
Are you planning to get up at 4 a.m. to watch events unfold? If so, post a comment or email me here. I'm also on Twitter, LinkedIn and YouTube.