James Carville Tackling ASI Radio
Monday November 7, 2011 | Filed under: ASI Shows, News About ASI
You could never accuse political pundit James Carville of being a shrinking violet. The upcoming ASI Show keynoter – a guest on ASI Radio this morning – stakes his claim to fame with the very first words posted on his website: "The man who has devised the most dramatic political victories of our generation."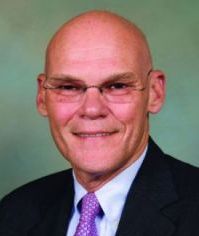 Even if you disagree with his politics, you gotta admire Carville's verve. The Democratic strategist credited with ushering an unknown Arkansas governor into the White House always tells it like it is, whether he's opinionating on Sunday morning talk shows or addressing a corporate crowd like ours. I can't wait to hear what he has to say on ASI's weekly radio show. To listen in at 10:30 a.m. ET today, click here.    
You don't have to prefer blue over red to enjoy Carville, a blunt-talking Southerner who dishes sports once a week on XM Radio and is married to Republican consultant Mary Matalin. His fierce frankness is why we chose him to square off with conservative Bill O'Reilly in "Live from the No-Spin Zone" January 18 in what's sure to be a highlight of ASI's first show of the year in Orlando.
Carville and O'Reilly, Republican and popular host of Fox's "The O'Reilly Factor," will give us the straight scoop on the 2012 presidential elections just as the already divisive race kicks off. I, for one, can't wait for this smackdown. Sparks will definitely fly.
So tune in as our radio hosts get the first stab at the Ragin' Cajun. I guarantee it'll be one of the liveliest exchanges ever heard over our airwaves, as Carville gives us his firm opinion on everything from the huge role promotional products will play in the 2012 elections to whether LSU will take Tulane.
Let me know what you think the hosts should ask Carville by posting a comment or e-mailing me here. I'm also on Twitter, LinkedIn and YouTube.