Hurricane Recovery Update
Monday August 29, 2011 | Filed under: ASICentral, Community, News About ASI
I hope all of you, and your family and friends, are safe and secure as we recover from this weekend's hurricane on the East Coast.
Like all of us at ASI (which was in Irene's path), I know many distributors and suppliers are dealing with various stages of recovery – assessing water damage, trees down, travel issues and client and shipment concerns.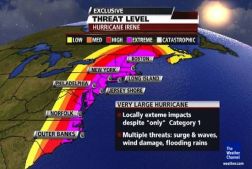 Please let us know if there's anything we can do to assist, or if some special accommodation is needed. We'll do anything we can to help.
We'll post hurricane-related updates at http://www.asicentral.com/. If you have a business update for us to post about your situation, please email details to feedback@asicentral.com.
Our information products and services, including ESP and LogoMall, have been up during the entire storm, with our backup generators being used during one relatively brief period. We have fully backed up technology and power in our main offices, as well as at an offsite location near Atlanta.
In coming days and weeks, please let us know if any ASI materials (end-buyer catalogs, references, etc.) have been damaged at your homes or offices. We'll replace them at no charge ASAP.
Please also let us know if there's anything we can do to help you or another colleague. My personal e-mail is tim.andrews@asicentral.com.
I weathered the storm at my house in N.J. and came through relatively unscathed with a power outage and flooded basement. Luckily, I had a generator from an ice storm two years ago and a friend who came to help out – who then got stranded when the water rose. He's since made it home to his family, which is what I hope for all of you.
Let me know how you and your business fared by posting a comment or e-mailing me here. I'm also on Twitter, LinkedIn and YouTube.