Hop on the Holiday Preview Train
Thursday September 15, 2011 | Filed under: ASI Shows, News About ASI
The ASI Holiday Preview Tour kicks off its four-city excursion next week with stops in Los Angeles (Sept. 23), Toronto (Sept. 27), Atlanta (Oct. 18) and Philadelphia (Oct. 26).
The full-day schedule features leading ad specialty suppliers showcasing their seasonal products – along with their hottest ad specialty items for the all-important fourth quarter – in a tabletop setting, free hot-topic education focused on ways to boost your revenue and a fun networking reception.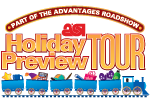 Taking part in the ASI Holiday Preview Tour is good business. Free to all distributors, the tour will provide you with new, inspirational marketing ideas for your clients without spending a lot of time away from the office. Plus, just for attending you will be entered to win an iPad (drawing taking place that day) and a two-year lease on a new Mustang.
It can't get any better than this. Register today at www.holidaypreviewtour.com. Or, call 800-546-3300 with any questions.
To exhibit, suppliers can call their ASI Show sales rep at 800-546-3300 or contact manager Nick DiNicola directly at ndinicola@asicentral.com. 
I hope to see you next week at the ASI Holiday Preview Tour.
– Karen DiTomasso, VP of sales for The ASI Show