Honoring Marty Lott
Thursday May 19, 2011 | Filed under: ASI Shows, News About ASI
No question, this is industry is populated with a lot of outrageous characters. You know who you are! And then there's Marty Lott, the quietly assured president of Top 40 apparel supplier SanMar – and Counselor's just-named 2011 Person of the Year.
I think you can tell a lot about someone by the way they handle a crisis. A big reason why we chose to honor Marty at Wednesday night's Counselor Awards in San Diego is for the way he managed his company throughout the recent cotton crisis.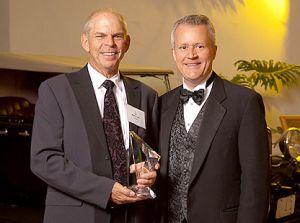 His undisputed leadership abilities were also on full display while tackling inventory issues affecting so many in the industry. These are but two fine examples in a long career chock full of inspiring moments.  
Click here to view Counselor's Person of the Year profile of Marty Lott.
We had a terrific time at the black-tie awards ceremony, held for the first time at the awe-inspiring San Diego Air & Space Museum. In addition to honoring Marty and our International "Person" of the Year, Billy Dolan and Vivian Lo of Camsing Global, Counselor magazine unveiled its annual Top 40, the ranking of the largest suppliers and distributors in the industry.
This year's distributor list is headed up by Staples Promotional Products (asi/120601) and the supplier Top 40 is lead by Norwood (asi/74400) & BIC Graphic North America (asi/40480).
Click here to view the 2011 Top 40 distributors and click here to see the Top 40 suppliers. Click here to see photos of all the action.
Today is the first day of exhibits at the San Diego show and tonight we've got comic Wayne Brady live on stage.  Friday promises to be another action-packed day. And then it's on to Chicago, July 19-21.
If you're at the show, let me know what you've seen and done by posting a comment or emailing me here. I'm also on Twitter, LinkedIn and YouTube.