Here Comes the Sun
Monday May 23, 2011 | Filed under: ASI Shows, News About ASI, Using Ad Specialties
What better place than California to check out cool new promo products for summer fun in the sun? In my final Tim's Take video of the San Diego show, I preview several products from ASI members, including a suncare kit, surfboard-shaped towel, sunscreen face stick, beach ball, personal fan and mister.
The show itself attracted 2,100 distributors (up 7% from last year) and 375 exhibitors to the gorgeous San Diego Convention Center. As we reach 2011's midpoint, it's clear everyone is feeling optimistic and excited about the rest of the year.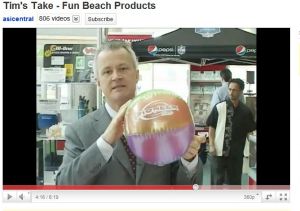 If you missed any of the action, go to www.asicentral.com  for all the news and videos.
Here's a roundup of jazzy summertime products:
Suncare kit from Admints & Zagabor  (asi/31516). This little kit packs a big punch with lip balm, SPF 30 lotion – and a terrific imprint area on its clear plastic pouch.
Surfboard-shaped towel from Towel Specialties (asi/91605). A great beach towel to hand out at company picnics, board meetings – you name it.
Sunscreen face stick from Leashables by Oralabs (asi/66715). No more greasy hands – just apply this 60 SPF sunscreen straight from the stick. Perfect for golf outings.
Personal mister, from Hit Promotional Products (asi/61125). There's no battery to worry about with this giveaway. You just pump for mist. Comes in super colors and sports a nifty wrist handle.
Retractable personal fan from Sweda (asi/90305). This handy dandy item pops open for easy use and instant breeze.
Metallic beach ball from K & R Precision Corporation (asi/63770). A heavy gauge ball that comes in mix and match colors with a super imprint area. Guaranteed to grab attention at any event.
 Click here for video of all the products.

 Let me know what products caught your eye this season by posting a comment or e-mailing me here. I'm also on Twitter, LinkedIn and YouTube.

And don't forget to register today for the next ASI Show in Chicago, July 19-21, at www.asishow.com.