Happy Holidays from ASI
Thursday December 22, 2011 | Filed under: Community, News About ASI
As everyone gets ready to head home for the holidays – or at least leave the office for a couple of days – I want to wish each of you my very best.
Despite the economic uncertainties here, there and everywhere, I was heartened this week to read about the so-called Layaway Angels, the mostly anonymous strangers who are paying off layaway balances for people struggling to make their final payments in time to put those presents under the tree.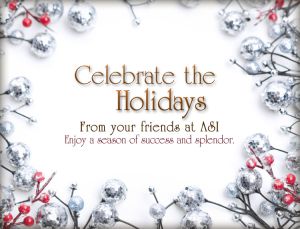 To date, these angels have paid off about $420,000 worth of toys and clothes in big box stores all over the country – without expecting so much as a "thank you." I don't know about you, but when I read about generosity like that, it makes my heart swell to three times its size, just like the Grinch's in the classic cartoon.
Everyone celebrates this time of year in different ways. Here at ASI, employees knocked themselves out with Ugly Sweater and cubicle decorating contests. And you can't walk two feet without finding a big tin of delicious cookies just waiting to sweeten your day.
More important, employees opened their wallets and donated a record amount during our annual Adopt-A-Family drive, money that went toward gifts for 53 area children and 16 parents receiving assistance from our local homeless shelter.
Throughout the company, you'll also see gifts and greetings from numerous ASI members – some so creative and so classy they really knock your socks off. The myriad of ways companies find to proudly display their logos always serves to remind me just how imaginative this industry truly is.
Like many of you, ASI held its annual holiday party last week, choosing to celebrate with a Western roundup theme. That meant lots of Texas-sized cowboy hats, checkered shirts, spiked lemonade – and even mechanical bull rides.
No, I didn't dare climb aboard myself – but plenty of employees did. We captured a few of the rides on video, so if you're in need of a laugh as you hustle to finish out the week, click here, here, here and here.
Enjoy!