Got a Question for Wayne Brady?
Monday February 21, 2011 | Filed under: ASI Shows, News About ASI
Upcoming ASI headliner Wayne Brady is a showbiz rarity. This cat can do it all: dance, sing and act on TV, film and stage. Tuesday morning, he's bringing it to ASI Radio for an interview that promises to be one of our most entertaining.
If you have a question for Brady, send it now to radio@asicentral.com and we might read it on the air – or ask you to call in and ask it yourself. Tune in Tuesday to listen to the interview and Q&A online at www.asicentral.com/radio.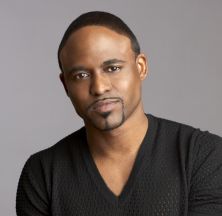 Our interview with the comedian advances Wayne Brady's performance at the ASI Show in San Diego on Thursday, May 19. Click here to register for tickets to his exclusive West Coast performance.
If you're wondering, "Where did I see this guy anyway?" you probably caught his Emmy Award-winning improv on ABC's "Whose Line Is It Anyway?" In addition, Brady has guest starred on "30 Rock," "How I Met Your Mother" and "Everybody Hates Chris."
You may have also seen the multitalented performer during his hit run in Vegas. In its review, the LA Times said, "What makes Brady's show so special is that he has somehow found a sweet spot by managing to successfully mix old school Vegas entertainment hip without sacrificing any new Vegas cool in the process. He may be the first performer to pull this off."
So tune in Tuesday for our interview. I'm sure it'll brighten your morning.
And for a change of pace, check out the interviews ASI Vice Chairman Matthew Cohn conducted from our bash at Eddie Deen's ranch and hear testimonials from ASI distributors and suppliers about the Dallas show. Click here to watch.
Be sure to let me know what you think of Wayne Brady by posting a comment or emailing me here. I'm also on Twitter, LinkedIn and YouTube.