Get Ready to Shop Till You Drop
Wednesday September 28, 2011 | Filed under: ASI Shows, News About ASI
Pumpkins are on the stoop, which means the holiday season is upon us. The good news for the business community is that forecasters predict slightly higher sales than a year ago. We'll take it!
In our industry, there's no better way to jump into the crucial fourth quarter than with the ASI Holiday Preview Tour, which attracted nearly 600 distributors at its first two stops in Los Angeles and Toronto. The next stop on the train to greater sales is Atlanta on October 18, and then Philadelphia on October 26.
For distributors, the one-day tour offers the perfect place to gather fresh marketing ideas for clients, quickly and efficiently. And suppliers can meet hundreds of distributors in a few hours. What other show offers all that?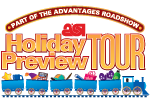 Each show features leading ad specialty suppliers showcasing their seasonal products – along with the hottest ad specialty items for this final quarter. The show takes place in a tabletop setting, with free hot-topic education focused on ways to boost revenue. There's even a fun networking reception.
And in Philadelphia, Top 40 distributor Proforma (asi/300094) will co-locate a Proforma End User Showcase, giving those end-users an escorted tour of the show floor to discuss their needs with exhibitors.
All distributors are invited to attend the Holiday Preview Tour for free and can register on-site with a business card or pre-register today at http://www.holidaypreviewtour.com/ to receive exclusive exhibitor specials and show updates in advance.
To exhibit, suppliers can call their ASI Show sales rep at 800-546-3300 or contact manager Nick DiNicola directly at ndinicola@asicentral.com. 
Here's one last sobering thought: There are only 88 shopping days left till Christmas. Are you ready? Let me know by posting a comment or e-mailing me here. I'm also on Twitter, LinkedIn and YouTube.