Get Creative and Go, Green, Go
Friday April 22, 2011 | Filed under: Members, News About ASI, Using Ad Specialties
How many of you remember the very first, few Earth Day products like the dim light bulbs and the costly laundry detergent that didn't really clean your clothes? Now, more than 40 years on, nearly every major store carries a fleet of great "green" products and gas-friendly cars like the Prius can be found in every neighborhood.
The promotional products industry has done its part as well, serving up terrific eco-friendly products that make everyone feel good about saving our planet. They're competitively priced or offer enough value that consumers don't mind shelling out a little bit more.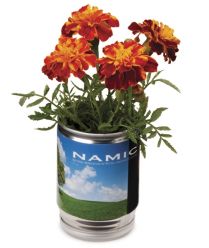 And it's a no-brainer that companies branding themselves via green promo products send a direct "We care" signal to end-buyers.
This year, in what's become our annual list of go-green promo products, we put an emphasis on finding items that make creative use of recycled materials, like recycled paper turned into coolers, bike chains crafted into picture frames, billboards made into bags and garden litter transformed into journals.
"The Joe Show" also jumped on the bandwagon and devoted an entire segment to creative giveaways that can appeal to everyone, "crunchy" or not. Click here for a YouTube "Joe Show" demo of the products and read on for our Earth Day hot list:
Bike chain picture frame handmade in India in a workshop sponsored by Noah's Ark, an NGO that offers funding for raw materials, machines and workshop repairs to 100 artisan groups across India. Employees paid fair wages and work in safe and clean conditions. From Helping Hand Rewards (asi/60465).

Netbook/iPad bag made from recycled PET, the plastic used to make soda bottles, allows high tech companies to hop on the eco-friendly bandwagon. From East India Natural Goods (asi/51496).
Flip-flops made from recycled coconut fibers and recycled rubber. Great for spas, resorts and beach destinations exhibiting at any eco event. From Neet Feet (asi/73525).
Cooler made from recycled paper/cardboard. Pack it with refreshments to hand out at a local Earth Day event. Can be reused. From Recycool Inc. (asi/82500).
Planter can with seeds and soil packet allows user to grow herbs inside. Neat giveaway for schools and great item for offices. From Points of Light Inc. (asi/78825).
Serving utensils made from bamboo. Farmers' markets that sell organically and locally grown produce can use as a gift with purchase. From Bay State Specialty Co. (asi/38980).
Every litter bit helps journals handmade by a family of artisans in Bali who collect garden materials to create the covers and make paper using a kitchen blender. The family also employs women and older members of the community can work from home. From Helping Hand Rewards (asi/60465).
Bags made from recycled billboard and banner material, so banners from a local Earth Day event can be recycled into bags to be given out at the following year's event or sent to event sponsors afterwards. From Landes Inc. (asi/66230).
Colander made of bamboo. Serving trays and bowls also available. Perfect for companies in the food industry. From Aunt Beth's Cookie Keepers (asi/37465).
T-shirt made from 50/50 mix of cotton and recycled polyester. Event organizers can use as a mass giveaway or sell them for a profit. From Anvil Knitwear Inc. (asi/36350).
Polo made from polyester and bamboo lets Earth Day event staffers stay cool and dry in a moisture wicking shirt. From Skins Game (asi/87629).
Let me know how your company promotes Earth Day concepts all year long by posting a comment or emailing me here. I'm also on Twitter, LinkedIn and YouTube.