Editorial Reigns Supreme
Friday January 21, 2011 | Filed under: News About ASI
If you were within earshot of ASI's editorial office this week you would have heard an awful lot of whooping and hollering. We've received word that three of our magazines are finalists for Jesse H. Neal National Business Journalism Awards from American Business Media.
The prestigious awards are considered the Pulitzer Prize of business journalism. Not only that, this sets a new record for ASI's editorial department: the first time it's been nominated for three Neals in one incredible sweep.
The awards themselves date to 1955 and are named after American Business Media's first managing director, who actively promoted business media throughout his life. When the awards were established, Neal himself said, "I believe that the deepest satisfaction that a business editor can enjoy is realizing his success can and does affect an entire trade or industry."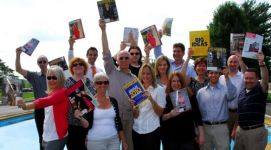 That pretty much sums up our editorial philosophy. Our writers, editors and designers work hard to serve the ad specialty industry and I believe their efforts continuously advance the industry as a whole.
Here's what's being recognized:
Best Single Article: Wearables, for Editor C.J. Mittica's awesome article, "From Seed to Shirt," which detailed his 2,700-mile journey from Texas to Guatemala to show how organic apparel is made.
Best News Coverage: Supplier Global Resource, for Editor Michele Bell's great read, "Asia's Seismic Shift," on how labor unrest and other issues in China would affect industry suppliers.
Best Educational Content: Counselor State of the Industry issue, edited by Andy Cohen and packed with phenomenal trend stories, how-to tips and profiles written by many staffers.
On March 10, the editorial gang will go to New York City for an awards dinner and to learn whether they'll take home bronze, silver or gold medals for their efforts.  They'll be honored alongside publishing giants like Dow Jones, Hearst, Crain's and McGraw-Hill.
In the past few months alone, our editorial department has won 14 awards from the American Society of Business Publication Editors, four Folios and now three Neal nominations. The photo above shows our editorial team, led by Editor-in-Chief Melinda Ligos, celebrating one of their many wins. Please join me in congratulating them for once again proving they truly are the best of the best.
If you've read an ASI story recently that you think is a winner, please let me know by posting a comment or emailing me here. I'm also on Twitter, LinkedIn and YouTube.