Brave New World for Sales Pros
Thursday August 11, 2011 | Filed under: Industry Initiatives, Member Benefits, News About ASI, Research
ASI took another giant step forward this week with an announcement about our upcoming launch of ASI SalesPro for suppliers. Powered by Oracle exclusively for the ad specialty industry, our latest sales and marketing tool will help suppliers close more sales and increase profits.
We've spent a year developing ASI SalesPro and committed millions. It's money well spent. The plug-and-play business platform will integrate Oracle's cloud-based technologies with all of ASI's products to create a unique, highly secure platform.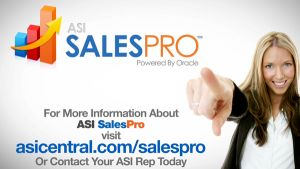 ASI SalesPro will feature:
Maximum efficiency. One location for management of all customer, contact, lead and opportunity information, with 5,000 top distributors preloaded into the program.
A 360-degree business view. The digital marketing component allows you to send e-mails, track opens and easily follow up with prospects.
 Cross-team collaboration. Tools for reporting, forecasting and real-time analytics, as well as lead generation and customer ranking, for sales managers and inside and outside sales reps.
 To be the first to receive ASI SalesPro when it becomes available sometime in the fourth quarter, e-mail salespro@asicentral.com or call 800-546-1226. For a video demo, click here.  Receive ASI's new CRM complimentary as part of your CreditConnect Prospect Hunter subscription, or as a stand-alone product. 

If you want more information, click here to read our press release. And stay tuned for launch details on SalesPro and the upcoming launch of ASI SmartSales – a customized Oracle-powered technology platform designed exclusively for distributors and decorators.

If you've seen the demo of either SalesPro or SmartSales, let me know what you think by posting a comment or e-mailing me here. I'm also on Twitter, LinkedIn and YouTube.