Top 10 Sexiest Valentine's Day Promotional Products
Friday February 5, 2010 | Filed under: Industry Initiatives, News About ASI, Research, Using Ad Specialties
What gifts hit your list on Valentine's Day? Boxed candy and flowers? This year, think outside the box and check out ASI's very first list of Top 10 Valentine's Day Promotional Products. The romantic giveaways and business gifts on the list are sure to start a conversation - or a very interesting evening.
There's no doubt romance is a smokin' hot market - a search for romantic giveaways in ASI's database reveals marketers are in mad pursuit of everything from logoed condom packs to chocolate lips to help them launch Valentine's-themed campaigns. There's more - much, much more.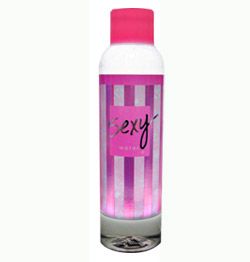 The top 10 sexiest Valentine's Day promo products for 2010 are:
Sexy® Water - bottled water with a label that says it all.
Bling Travel Mug - a mirror on the front is pimped with shiny faux gems.
Romantic Evening Intimacy Kit - this pouch has six condoms and flavored lubricant.
Contrast Color Thong - an imprinted hot favorite.
Chocolate Lips - wrapped in red foil, it's chocolate with a twist.  
Tangle® Love Keychain - the famed toy has a risqué side.
Little Black Book of Sex Secrets - a reference with naughty tips.
Sex on the Beach Kit - includes coconut massage oil and drink recipes.
Red Heart USB Drive - who says you don't love your computer?
Silhouette Girl Flashing Pin - if truckers put it on mud flaps, you can wear it.
For a video featuring some of the products, click here. For photos of each product and for more information about how to purchase, click here.
Let me know what themed items you sell the most by posting a comment or emailing me here.  Of course, I'm also on Twitter, LinkedIn and YouTube. And have a very happy Valentine's Day!