The Tailgater's Checklist: Games, Gear and More
Friday September 17, 2010 | Filed under: Using Ad Specialties
No matter who you bet on during the NFL season opener, one clear winner emerges week after week: the billions being made on merchandising.
Forbes estimates the Steelers alone are worth $1.01 billion, taking into account everything from TV, advertising and tickets to sponsorship and jerseys. One emerging new market? According to a Huffington Post football blogger, women now make up about 50% of the league's fan base, and women's apparel is now the league's fastest-growing business.
In the spirit of the season (and the marketing), ASI recently posted its first-ever Top 10 list of ultimate tailgating games and gear. I never knew asphalt games like cornhole and sholf existed, never mind that they're a big part of the pre-game tailgating experience.
You can even order frozen, mail-order steaks to grill next time you hit the stadium. Take that, weenie roasts!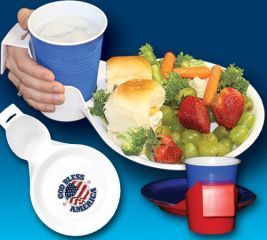 There's an entire science to tailgating and an actual Tailgating Institute, which says a typical tailgater is a college-educated male between 35-44 who hosts and/or attends six to 10 tailgate parties a season, spending over $500 on tailgating food and participating in a variety of interactive games with fellow tailgaters.
Need some ideas? Here's our list of Top 10 list of ultimate tailgating games and gear:
Cornhole. Liven up any corporate event or party with this spirited beanbag toss game. From American Cornhole (asi/35456).
Can Handy. Imprint your company logo on this can holder and then slap the magnetized cooler on the side of a car, truck, van, etc. for easy access. From Novelty Premium (asi/74408).
Steak A Claim. Class up any barbecue with quality steaks delivered frozen and available in a variety of cuts. From Entrees To Excellence (asi/52507).
Plateful Of Fun. No more juggling, thanks to this handy food-and-drink combo plate. From Pioneer Plastics (asi/76770).
Cool Man. Cooler comes with stand, making it easy for attendees to grab an ice-cold beverage. From The Coleman Co. Inc. (asi/45647).
Ladder Toss. The next generation of tailgating games requires players to hurl golf balls tethered to string at a ladder 20 feet away. From Star Line (asi/89320).
Rest & Relaxation. The ultimate folding chair for any sporting event or corporate pre-game bash. From Picnic Time Inc. (asi/78065).
Hot Cooker. Mini Weber grill is perfect as a sweepstakes prize or valuable giveaway. From M2 Enterprises Inc. (asi/68316).
Sports Cooler. Can cooler comes in a variety of sport-themed designs. A golf ball-inspired cooler is just the thing for a golf-themed event. From Ball Pro Inc. (asi/38120).
Sholf Green. Bring the golf course to the tailgate. Each green is made with a thick, hand-bound turf to simulate an actual putting green. From AJJ Enterprises (asi/30226).
 To see a Joe Show featuring many of these items, click here. For a complete list, photos and ordering info, click here.

 Let me know what's a winner in your book by posting a comment or emailing me here. I'm also on Twitter, LinkedIn and YouTube.