The Start of Something Good: ESP Searches Up, Up, Up
Tuesday April 13, 2010 | Filed under: ASI Shows, Research
There's something in the air besides spring.  Call me an optimist, but I'm seeing the start of an industry turnaround.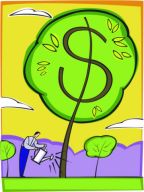 Instead of tulips, I'm counting the number of searches in ESP.  And what I'm finding is giving me a real stirring of hope.  From March 2009 to March 2010, the number of searches in the ASI product database increased nearly 9%.  And from February 2010 to March 2010, that number jumped almost 21%.
What that tells me is more people are searching for more products.  More sales can't be far behind.
The most cautious of distributors tell me that while business remained relatively flat this first quarter, they no longer feel like they're peering into the abyss.  In addition to more confidence in the future, they're reporting an uptick in inquiries and prospects.    
While no one's uncorking the champagne quite yet, some businesses are reporting an increase in orders dating back six months, thanks in part to aggressive marketing efforts.
Here at ASI, we're counting down the days until ASI New York, May 4-6, the industry's first and only major trade show in the Big Apple and the number one choice for a Northeast event in numerous member surveys. New York is also the site of our very first ASI Women's Summit, May 4, with keynoter Barbara Corcoran - who's almost as bullish on opportunity as me.
I plan to toast the future at our annual Counselor Awards May 5 at New York's venerable Plaza Hotel.  
Please tell me what signs of revival you're seeing by posting a comment or emailing me here.  I'm also on Twitter, LinkedIn and YouTube.