The Gift Book: Christmas in July
Monday July 26, 2010 | Filed under: News About ASI, Using Ad Specialties
When the thermostat hits 90 and beyond, it's hard to think of winter, but now is the perfect time to plan for the fourth-quarter gift-giving season, when more industry sales occur than in any other period.
The Gift Book is the right catalog at the right time, providing loads of quality items for incentives and corporate gift-giving programs – some starting as low as $1.19.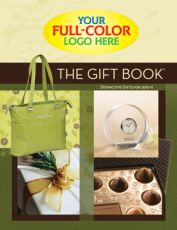 Order by August 31 and receive a free personalized digital version of the 2010-2011 Gift Book, plus free shipping. Distributors can also choose between two covers options: standard and a stylish, deluxe red version.
No matter what the occasion, or the budget, you'll find what your clients need among more than 400 products from 60-plus suppliers. Searching is easy, thanks to special sections on food and drink, cards and stationery, and the ever-popular golf section. 
Looking for high-end thank-you gifts? Choose from a variety of trendy electronics, writing instruments, desk accessories, stylish watches and leather portfolios.
The Gift Book is just one of nine customized catalogs offered by ASI as sales-generating tools for suppliers to advertise a wide variety of products and for distributors to sell, market and promote their company. Best yet, distributors can personalize each catalog by imprinting thier logo and contact information on the cover in full color.
For more information, click here to read our press release.
And don't forget – Saturday is the last day to nominate yourself or someone else for one of four ASI advisory boards. Nominations close July 31; voting begins September 1 and ends September 30. Names will be announced at the ASI Power Summit in November. Click here for more information.
Let me know how catalogs have helped you sell by posting a comment or emailing me here. I'm also on Twitter, LinkedIn and YouTube.