Straight from Chicago: Strategies for Success
Wednesday July 14, 2010 | Filed under: ASI Shows, Education, News About ASI
This morning I put Harris Cohen, president and CEO of All-In-One (asi/34256), on the Hot Seat to discuss a number of industry trends, including supplier inventory, investing in new products and "The Big Idea."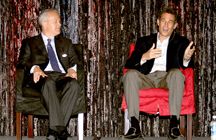 To watch a Tim's Take video filmed after the interview, click here.
Harris agrees with many distributors on the importance of maintaining a deep inventory and says now that the economy's easing, there's no excuse for empty shelves.  All-In-One, which helped introduce flash drives and USBs to the industry, is now immersed in  encrypting and full-color imprinting and personalization.
As Harris says, personalization takes any product to the next level.
I also got a chance today to interview ASI Show's VP of sales, Karen DiTomasso, after her packed supplier panel, "Quick Strategies to Get Noticed & Generate More Quality Leads."
Click here to watch.
Karen was joined on the panel by Josh Goodelman, VP of Liqui-Mark Corp. (asi/67675), Jim Moore, senior VP of sales and marketing at Molenaar (asi/71980) and Fran Ford, senior VP of J Charles Crystalworks Inc. (asi/62985).
These industry vets bring a combined 100 years of experience to the table.
The session – new for 2010 – provided suppliers with quick strategies for exhibiting, including these three nuggets:
Plan, plan, plan. Don't just buy exhibit space and think your job is done.
Recruit and train knowledgeable, energetic staffers.
Follow leads immediately. Don't let a minute go to waste. Make your appointments right at the booth.
In addition to an array of educational offerings at every show, don't forget ASI also offers dozens of online tutorials through ASI Education.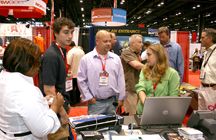 I'm off now to get ready for tonight's Chicago Gala Celebration, followed by the Counselor HOT Party. Make sure to check back for loads of photos from these events tomorrow.
Let me know what you've learned so far at ASI Chicago, which ends Thursday, by posting a comment or emailing me here. I'm also on Twitter, LinkedIn and YouTube.