State of the Industry Sneak Peek
Wednesday July 14, 2010 | Filed under: ASI Shows, Research
Counselor's State of the Industry issue – our largest and best-read issue of the year – is about to drop and I'm offering a preview in Tim's Take, a video shot during the opening day of our Chicago show.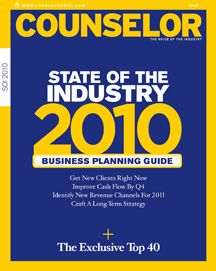 Click here to watch.
In the issue, we report that both distributors and suppliers are abundantly more optimistic about the health of the market in 2010 than they were in 2009. What that tells us is that growth is here, and more is on the way.
Even further, 63% of distributors expect to increase their sales and profitability in 2010, which is a good indication of a solid year ahead for everyone in our industry.
Our data comes from separate surveys returned by distributors and suppliers and analyzed by Larry Basinait, executive director of research services for ASI.
As Counselor reveals, the top three sales categories are health, financial institutions and education. I'm happy to report that doctors and health-care organizations are promoting themselves more, which is helping offset the hit the sector took from legislative restrictions placed on Big Pharma.
The growth of finance and education comes  thanks to government education and retraining programs now available to the unemployed. So, if you haven't started chasing your local educational market, now's the time.
And, there's more. The issue also contains a Business Planning Guide, which provides strategies and tactics for distributors to plan for business growth over the immediate and long term. Broken up into four time-based sections (immediate, 2010 fourth quarter, 2011, and a long-term two-to-four-year horizon), the guide offers advice sure to invigorate and energize any organization.
Let me know what you're doing to recharge your business by posting a comment or emailing me here. I'm also on Twitter, LinkedIn and YouTube.