Spend It to Make It
Monday November 15, 2010 | Filed under: News About ASI, Using Ad Specialties
Where's the beef? According to suppliers, it's in e-marketing. A survey in this month's Supplier Global Resource magazine says suppliers invigorated by this year's sales surge are reinvesting those earnings in trade shows – and marketing.
According to the survey, 58% of responding suppliers say they'll beef up e-marketing in 2011, 27% say they'll increase trade show participation, and 46% say they'll boost their total marketing spend. All in an effort to get the word out about their products.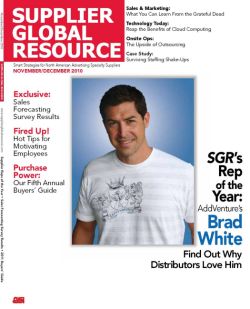 As SGR senior writer Betsy Cummings discovers, sales are up and suppliers are on the move.  More than half of survey respondents report sales are up for the year overall, which is prompting companies like Counselor Top 40 supplier Ash City to open a second factory and a second lab while also increasing its marketing spend.
As we've noted throughout the downturn, numerous companies that maintain their aggressive edge are coming out on top now that purse strings are loosening. As SGR reports, the mantra seems to be "spend it to make it." At Liqui-Mark Corp., for example, a 20% rise in sales from 2009 to 2010 allowed the company to invest more in personnel and equipment.
Our survey says action is winning out over inertia: more than two-thirds of suppliers (69%) plan to expand their product line in 2011.
Bob Buddenbohn, owner of American Artisan, attributes his recent sales to an investment in new items in the $1 to $5 price range – perfect for end-users reluctant to place pricier orders.
Trend reports are just one of many resources available to readers of Supplier Global Resource, where so many suppliers turn for the latest news and ideas. If you're not reading it, now's the time to start. There are only 40 days left till Christmas, and a brand new sales year will be upon us before we know it.
Let me know what economy-busting ideas are working best for you by posting a comment or emailing me here. I'm also on Twitter, LinkedIn and YouTube.