School's Out – But School Products Are In
Thursday July 15, 2010 | Filed under: ASI Shows, Using Ad Specialties
It's never too soon to stock up on Back to School items, and I got a terrific preview of fun products this week at ASI's Chicago show.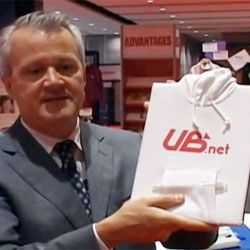 Click here to watch my Tim's Take sampling of the many products I discovered browsing a packed show floor. Here are just a few:
Recycled paper pen. From Sweda LLC (asi/90305). It looks like a pencil but writes like a pen. Made of recycled paper with a large color eraser.
Eco-cube. From Hit Promotional Products (asi/61125). Made of 100% vegetable-based material and biodegradable. It's a cube – and memo holder, pen stand and paper clip dispenser.
Scrubs notebook or hoodie notebook. From Gordon Sinclair (asi/57800). This is the coolest thing ever. An 80-page notebook with three front pockets with a cover that looks exactly like hospital scrubs. Perfect for doctors, nursing homes, medical staffs. It also comes as a hoodie (pictured) – which any student or educational market will love.
Brown baggin' it lunch bag. From Leed's (asi/66887). It's water-resistant, wipeable and fully insulated. Great for any educational or office market.
Let me know your favorite product from the show floor by posting a comment or emailing me here. I'm also on Twitter, LinkedIn and YouTube.