Promo Products Save Taxpayers Millions
Friday May 28, 2010 | Filed under: Industry Initiatives, Research, Using Ad Specialties
Don't you love when the government saves us money – rather than spends it? If so, you'll appreciate this: Using promotional items to remind people to mail back their census forms could save U.S. taxpayers up to $85 million.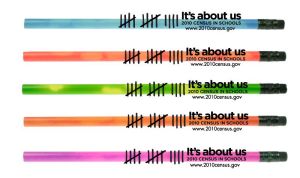 So far, more than 72% of the nation's households have responded, which the Census Bureau says already surpasses the total response rate in 2000 of 67%. The massive awareness campaign was fueled in large part by promo products – everything from branded totes to pens, mugs and magnets – that reminded people to send in their info.
And while census workers will still come knocking, thanks to the power of promo products, fewer are needed, which is where we all save money.
 Overall, the Census Bureau spent $340 million for advertising, targeting $140 million on television, print and Internet ads, and $22.7 million on promotional products.
Guess which saved taxpayers more? Census promo items cost an estimated nickel per person while "mainstream media" ads cost roughly $1 per person. Talk about more bang for the buck!
 Numerous industry companies did their part to get the word out. Proforma Double Dog Dare in New Albany, Indiana provided the government with 50,000 travel totes, PromoShop (asi/300446) contracted with several U.S. cities and Halo/Lee Wayne (asi/356000) distributed products throughout Arkansas, Iowa, Kansas, Minnesota, Missouri and Oklahoma.
It's a critical message. The government relies on census data to help determine how to distribute more than $400 billion in federal funds to tribal, state and local governments each year.
Halo/Lee Wayne Senior Account Executive Anita Daniels echoed the sentiments of many when she said she found this job particularly rewarding: "It gave me a great sense of pride knowing the government was helping me and I was helping some of my fellow American workers."
To read more about the industry's Census efforts, click here.
And let me know if your company conducted any Census-related work by posting a comment or emailing me here.  I'm also on Twitter, LinkedIn and YouTube.