Promo Products on the Charity Auction Block
Wednesday February 24, 2010 | Filed under: Community, News About ASI, Using Ad Specialties
The administrative team at ASI - spearheaded by Carole Seymour - organized a silent auction to benefit the Bucks County chapter of the American Red Cross.  Over two days, employees bid on an eclectic array of items furnished by the editorial department, from a glittery Obama T-shirt and turkey fryer to a golf bag and ukulele.  
The auction raised $1,447, with the highest bid going for the Obama shirt.  Personally, I was angling for the ukulele.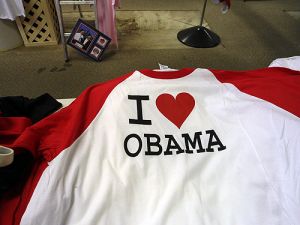 The auction is one effort among many.  Since 2003, ASI has helped raise nearly $2 million in cash and goods for worthy causes.  That amount includes $620,000 for the American Red Cross to assist hurricane victims, over $25,000 for the Adopt-A-Family program, five tons of donated items to food banks and homeless shelters, $60,000 to PPEF (an industry education fund), chairman Norman Cohn and his family's efforts to raise about $1 million for the Juvenile Diabetes Research Foundation (http://www.cohnsisters.com/), and over $64,000 for a food bank I helped establish in my Indiana hometown of Hope.
It's gratifying to know that even when times are tough - perhaps especially when times are tough - we can count on each other to help those in need.
What charities are you or your company involved in?  Let me know by posting a comment or emailing me here.  I'm also on Twitter, LinkedIn and YouTube.