On With the Show!
Wednesday May 5, 2010 | Filed under: ASI Shows, News About ASI
Our New York show is well underway and I'm happy to report we're having a great time in a great city.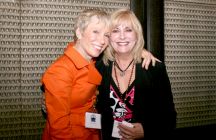 Tuesday, Barbara Corcoran headlined ASI's very first Women's Summit and from all reports, she was a smash. Barbara is the founder of the Corcoran Group and a trailblazing entrepreneur who parlayed a $1,000 loan into a $5 billion real-estate business.
The best part of Barbara's presentation was her warmth and personality. During the book signing, she actually ran out of time - but kept right on signing more books as she ran out the door. And she paid enough attention to each person to write something personal inside each book she signed. Now that's attention to detail.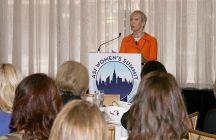 And that's exactly how all of us should treat our customers and prospects - up close and personal. The entire industry is built upon the premise of personal service, and seeing someone like Barbara Corcoran in action, sealing the deal as it were, with pretty much everyone in the room, proves just how effective this approach can be.
She also advised everyone to take risks, saying tough economic times are golden for entrepreneurs - something she learned firsthand. It's hard to argue with a winner like Barbara.
Overall, the Women's Summit - an exclusive, high-energy event specially designed for female professionals to network with their colleagues - was a big hit.
As Stephanie Schaeffer, ASI's corporate VP, told the crowd: "ASI closely monitors the number of distributorships in the industry, and women are launching businesses at a record pace. Women have a secret weapon to succeed - other women. We're great collaborators and communicators - and maybe some of you will find your mentor in this room."
I'm looking forward to another great day on the show floor Thursday and hope to see as many of you there as possible. If you're at the show, please let me know what you think by posting a comment or emailing me here. I'm also on Twitter, LinkedIn and YouTube.