On the Road with the Advantages Roadshow in 2011
Wednesday May 26, 2010 | Filed under: ASI Shows, News About ASI
By his own estimate, ASI's Nick DiNicola has logged about a half-million miles since the first Advantages Roadshow in 2007.
He's not done yet.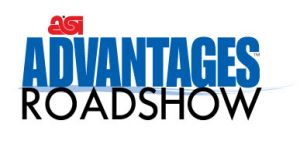 The industry's largest and best-attended traveling show just announced its 2011 schedule, which will take the roadshow general manager throughout the United States and Canada, including a first-time stop in Birmingham, AL (home of the Vulcan, the world's largest cast-iron statue at 56 feet and 120,000 pounds).
After nearly four years on the road, Nick's seen a lot of country – and collected a mountain of trivia. In 2011, he'll learn a whole lot more. In 16 weeks, he'll bring together thousands of suppliers, distributors and decorators during 76 local roadshows throughout North America.
To see the entire schedule, click here.  And please note: Suppliers can now reserve 2011 space at 2010 prices.
So far this year, more than 5,000 distributors have attended an Advantages Roadshow, where they learn new sales tools, discuss client challenges and needs with other pros while discovering innovative items that'll give them a competitive edge. All in a few short hours.
Top suppliers choose the show as their platform to introduce new products, making it a big part of their annual exhibition plan.
To exhibit, suppliers can call their ASI Show sales rep at 800-546-3300 or contact Nick directly at ndinicola@asicentral.com. Just don't challenge him to a game of Trivial Pursuit.
I'd love to know about your roadshow experience, so please post a comment or email me here.  I'm also on Twitter, LinkedIn and YouTube.