Media File Flying Off Shelves
Thursday April 22, 2010 | Filed under: News About ASI, Using Ad Specialties
Nothing says "success" like "going-going-gone,"so I'm happy to share the news that we've already pre-sold 70% of our 2010 Media File, the world's largest promotional products catalog. But you're not too late - we're still taking orders for this handsome, hardcover book, which sales reps and their customers have relied on for 55 years.
This essential sales and sourcing tool contains thousands of products from hundreds of suppliers in all price ranges. Price and product indexes make it easy to choose products to suit any client's budget and every promotional objective.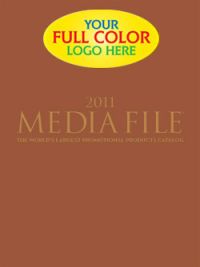 Whether you're looking for aprons, beach balls and computer gadgets or whistles, wristbands and wine accessories, Media File is the go-to catalog you'll turn to first. There are also green products, unique items and a special wearables section.
Some sales reps liken Media File to a yearbook - the one they give to their top clients and proudly display at the front of their showroom.
As always, the front cover can be imprinted in full color with the distributor's logo and contact information - any time throughout the year. 
To order the 2010 Media File online and to see sample pages, click here.
And let me know how Media File has helped you over the years by posting a comment or emailing me here. I'm also on Twitter, LinkedIn and YouTube.