LogoMall Has Actors Walking Across the Screen
Monday February 22, 2010 | Filed under: Industry Initiatives, Member Benefits, News About ASI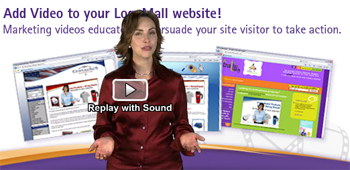 By now, most of us have seen the epic 3-D blockbuster "Avatar." There's little doubt the flick represents the moviemaking future.
ASI's LogoMall is reaching for the stars as well, using the latest in digital marketing - walking, talking onscreen personalities - to engage visitors and potential buyers.
It works like this: Click on a LogoMall website and an actor of your choice actually walks out onto the screen, says hello and proceeds to guide you through the site, helping you find promotional products and ideas.
The first time I saw it, one word popped into my mind: Cool. 
The videos - and there are plenty to choose from - are professionally produced by ASI affiliate RIVWorks Inc.  They can also create custom video to further personalize your site. No matter what you choose, the end result is further reinforcement of your brand and higher sales conversions.
To view an online demo, click here.   
The best part of this incredible new marketing tool is it's easy. Instead of spending time and money making the videos yourself, we do it for you, leaving you more time for selling.
As an added bonus, real-time analytics track each campaign to show you your video impressions and click-through rates to document leads.  The interactive platform also records whether visitors are first-time or return, and then it delivers the right video instantly. 
Distributors with a LogoMall site can join the future of online marketing and subscribe to the new video service immediately, at special pricing for ASI members. 
Tell me what cutting-edge moves your company's made recently by posting a comment or emailing me here.  I'm also on Twitter, LinkedIn and YouTube.