Live Green, Love Green, Buy Green
Wednesday April 21, 2010 | Filed under: Media Coverage, News About ASI, Using Ad Specialties
To celebrate the 40th anniversary of Earth Day we're offering a one-day sale of our best-selling, eco-friendly Green Catalog. From 8 a.m.-7 p.m. ET Thursday, all new sales of the 2010 Green Catalog are just $1 each.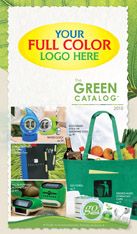 Paperless orders only: Call 800-546-1392. For more info, click here. 
And, I'm happy to report the most-watched morning show in Texas featured products from ASI's first-ever top 10 list of eco-friendly Earth Day giveaways. Turns out, Fox 4 "Good Day" consumer reporter Steve Noviello is a big fan of elephant poo products. To find out why, click here to watch the video.
Click here to check out some of the items featured on the air, and how to order them or find out more information. Some of the products on our list include:
Digitally Printed Shirt: When combined with any eco-friendly tee, digital printing requires no screens and no harsh chemicals. All inks are water-based and produced using no PVC, phthalates or heavy metals, so there's little waste. From Pony Xpress Printing.
Shower Timer: Tells you when your five minutes are up. Utilities, local municipalities and environmental groups can promote water conservation by offering this practical item. From All-In-One.

Recycled Tires Jar Opener: Made from rubber tires. Auto dealerships, mechanics and tire manufacturers can give these to customers for Earth Day or any time year-round. From Americanna.
Hemp-Blend Polo: This cotton and hemp organic shirt is naturally antibacterial, making it perfect for summer uniforms. From High Performance.
Compostable Pens: This pen completely breaks down in a landfill in 90 days (except the spring and refill). Hotels, banks and shops can use these and give them away to customers. From Shepenco.
Let me know how you or your company observe Earth Day and reduce your carbon footprint (recycled printer cartridges? carpooling? telecommuting?), and tell me your most popular green products by posting a comment or emailing me here. I'm also on Twitter, LinkedIn and YouTube.