Lights, Camera, Education
Wednesday December 15, 2010 | Filed under: Education, Member Benefits, News About ASI
ASI went Hollywood this week when a NYC production company transformed ordinary office byways into temporary movie sets for the filming of our upcoming Supplier Success System. The series is a sequel to the uber-popular distributor version that's helped so many industry newbies jump-start their business.
The supplier version will feature me, SGR Editor Michele Bell and Digital Advertising Director Gene Rahill explaining the intricacies of the promotional products industry while offering helpful tips and instruction.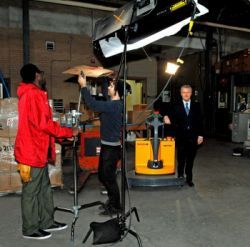 The shoot was as professional as they come, complete with bright lights, makeup and calls of "action" and "cut." In some of the scenes, numerous ASI employees served as extras. In the pic at right, the technicians are setting up the lighting for a segment shot in our warehouse. We may not win any Oscars, but we're hopeful the supplier education system proves as popular as a holiday blockbuster.
This new industry "crash course" will be supplemented with interviews with successful suppliers, top industry experts and end-users from the Fortune 500. It'll be patterned after the Distributor Success System, a 10-part learn-as-you-go series that includes an introductory DVD and 10 30-minute lessons on CDs, along with a workbook and motivational flash cards. 
The best part is you can take these courses when you want, where you want – at home, in the car, on a PDA or through a smart phone. Electronic versions are also available to all ASI members through our website. As with most ASI benefits, the Supplier Success System will be free.  
So far, we've given out over 8,000 distributor versions, which was first released in May 2009. We expect another hit on our hands when the supplier version comes out later this year. We'll alert you as soon as it's available.
If you've watched the distributor version, please let me know if it was helpful by posting a comment or emailing me here. I'm also on Twitter, LinkedIn and YouTube.