Lessons on Leadership and Life
Thursday August 5, 2010 | Filed under: News About ASI
Anyone who follows the news is familiar with the tarnished image of many CEOs.  Determined to counter the stereotype of out-of-touch executives, entrepreneur Scott Rosen interviewed a number of Philadelphia-area business leaders for a new book called "Wisdom at the Top: Lessons on Leadership and Life from 35 CEOs." I'm humbled to be included in the collection.
Rosen says he wrote the book to pay homage to "Rocky" stories of CEOs who came up through the ranks, overcame challenges and achieved success.
"The lessons I've learned during my career are the same lessons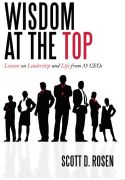 revealed by the CEOs in this book," says Rosen, himself the CEO of a successful staffing company. "Follow your passions, have the courage to take risks and, whether you're sweeping the floor, making coffee at Starbucks or running a million-dollar organization, do the best you can and good things will happen."
That pretty much sums up my own philosophy. In my interview, I talk about growing up in rural Indiana as well as the value of listening, mentoring and fostering a corporate culture based on openness and transparency. As I told Rosen, "If a CEO thinks his job is to spend the day looking at financial statements, something is wrong there."
All the stories in the book – from CEOs like Ed Snider, chairman of Comcast-Spectacor and owner of the Philadelphia 76ers and Philadelphia Flyers, and Jill Michal, CEO of United Way of Southeastern Pennsylvania – offer myriad lessons on everything from leadership to growing market share.
But the true bottom line is that passion, commitment and loyalty are the real golden parachutes.
If you'd like to read the chapter featuring my interview, click here.
Let me know what you think by posting a comment or emailing me here. I'm also on Twitter, LinkedIn and YouTube.