Industry Joins Fight Against Breast Cancer
Thursday September 30, 2010 | Filed under: Industry Initiatives, Using Ad Specialties
In October, during National Breast Cancer Awareness month, the promotional products industry is following the lead of the NFL, MLB and NHL to help raise money for cancer research – using unique, sports-themed items targeted at men.
Pink boxing gloves, hockey pucks, baseball bats and beyond are joining the ubiquitous pink ribbons adorning women's fashion to raise money and awareness. Anyone trying to raise money for this cause should consider broadening their scope to include men – and what better way to do that than with stuff you can hit, throw, whack and wear?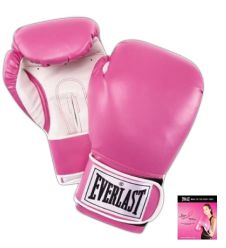 The professional sports community jumped on the cancer awareness bandwagon with campaigns like NFL's A Crucial Catch. In partnership with the American Cancer Society, the NFL is auctioning off pink game apparel worn during October. Major League Baseball auctions off pink Louisville Sluggers during games played on Mother's Day and the National Hockey League raises money through its Hockey Fights Cancer initiative.
Numerous promotional products companies are also donating a portion of profits from pink items to the cause, including Alumicolor, of Fort Collins, Colorado, which donates 10% of the list price of aluminum pink rulers to breast cancer research, and Kingport Industries, of Northbrook, Illinois, which donates a portion of profits from its "pink ribbon" collection to the American Cancer Society and other affiliated organizations.
Diana Haake, owner of Promotional Product Partners, created several hundred shirts for a breast cancer awareness event last year. "It brought in students from several local high schools for an all-day event, and they received the shirt for participating," she says. "It was very well received."
Another distributor, Win Oppel, president of Ad-Merica (asi/107275), recently created breast cancer awareness umbrellas for a client. He's also worked with St. Vincent's Medical Center Foundation in Connecticut on developing a set of ornaments, featuring a logo designed by a volunteer at the foundation and her niece.
And Ash City USA (asi/37127) launched a "We're Thinking Pink" campaign to help fund research for the American Breast Cancer Foundation.
ASI reviewed some of the products available throughout the industry and devised a Top 10 "think pink" list of sports-themed products that can be used for breast cancer awareness promotions and fundraising drives:
Pink foam hockey pucks, from Foamworx (asi/54886). Hockey clubs from pros to minors to colleges and high schools can give out pink foam hockey pucks with information on breast cancer awareness.
Pink mini replica baseball bat, from Hillerach-Bradsby Co. (asi/60835). Bats can be sold at games or online. Neat fundraising product for baseball teams to raise money and call attention to the cause.
Pink aluminum sports bottle, from Direct Link Promos Inc. (asi/49813). A PBA-free water bottle is perfect for 5k fundraising runs and walks.
Pink boxing gloves, from Online Fitness (asi/75093). Boxing promoters can use these gloves in a promotion to "punch out" a cure for breast cancer.
Pink polo shirt, from Perry Ellis Int'l (asi/77715). Real men wear pink. Polo shirts are ideal gifts for October golf tournaments.
Pink tie, from Wolfmark (asi/98085). Corporations big and small can provide pink ties to male employees to wear every Tuesday during October.
Golf balls with pink ribbon, from Norwood Tee Off (asi/90740). A great tee gift giveaway at golf tournaments.
Pink mini football, from Diamond Imprint (asi/49641). Pro, college, high school and club teams can raise awareness by either selling logoed footballs or by tossing them in to the crowd during halftime.
Sports car shaped stress reliever, from Jetline (asi/63344). Ties into men's love for their cars, and racing.
Auto racing kit, from Ready 4 Kits (asi/80882). Includes sunscreen, pain reliever, antacid, wet naps and earplugs, all in a pink pouch. Hospitals, doctors and breast cancer awareness activists can hand the pouches out at race tracks during October races.
Let me know what charitable organizations you're helping by posting a comment or emailing me here. I'm also on Twitter, LinkedIn and YouTube.