Hot Products and Cool Video from the Lone Star State
Wednesday February 3, 2010 | Filed under: ASI Shows, Industry Initiatives, News About ASI, Using Ad Specialties
There's lots of action on the show floor at a packed house in Dallas this week as we preview novel new products for 2010 while applauding some consistently reliable crowd pleasers.
In honor of ASI Vice Chairman Matthew Cohn's 40th birthday, which he celebrated in fitting style at ASI Show Dallas, we ordered a gorgeous, custom-made tapestry from Terry Town Promotional Wearables (asi/90913), imprinted with his photo. Click here to preview one of Terry Town's 100% customizable items.
In another Tim's Take video, I recap my Hot Seat interview with Dan Townes, president and CEO of writing instrument supplier Shepenco/Shelbyville Pencil Company (asi/86850). Dan told us he feels good about 2010 and the investments he's made in his fourth-generation, family-owned company, serving customers for an astonishing 77 years. Click here for the recap.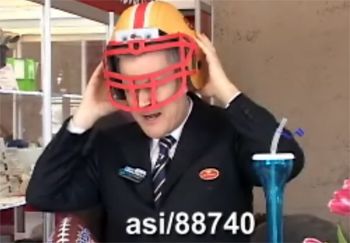 With Super Bowl just days away, I'm really excited about the sports-related party products here at the show. Click here for a round-up of products, including:
Football foam hats from Spirit Industries (asi/88740)
Yard glass and straw, flashing feather bracelet and lightable St. Patrick's/Mardi Gras mask from Alightpromos.com (asi/34194)
Heartbandz and Heart red clipsters from Dard/Tagmaster products (asi/48500)
As if that wasn't enough, we also previewed some really funky products that just might light up your Valentine's Day. Click here for ordering info and pics of these products, and more:
6-Pack Abs Shirt from Pony Xpress Printing (asi/297068)
Guitar Shirt from Think Geek (asi/91123)
Sexy® Water from Nationwide Springs (asi/73494)
Pimped Travel Mug from Berney-Karp (asi/40261)
Finally, check out the Tim's Take featuring a live report on the latest machinery and the newest embroidery and imprinting technology from Hirsch International, which had decorators like Trina Banner of Creative Designs in stitches.

If you're at the show, let me know what you think by posting a comment or emailing me here.  I'm also on Twitter, LinkedIn and YouTube.