Hot Products: A Real Treat from New York
Thursday May 6, 2010 | Filed under: ASI Shows, Media Coverage, News About ASI, Using Ad Specialties
ASI TV shot a lot of video at our New York show this week and I'd like to share some highlights from my "Tim's Takes," direct from the Counselor awards and a bustling show floor at the Javits Center.
If you click here, you'll see me in my tux just before our glamorous event at the Plaza, where we joined 350 dignitaries to honor the Top 40 suppliers and distributors; the International Person of the Year, Nicolas Paillot, CEO of BIC Advertising & Promotional Products; and our 2010 Person of the Year, Proforma's Greg and Vera Muzzillo.
Click here for my report from the show floor, which includes breaking news from Counselor magazine that distributor first-quarter sales are up by 11.1% over 2009.  Now that's news we can all celebrate - and take right to the bank.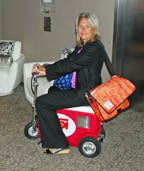 Finally, click here to check out two very cool products, which we featured Wednesday morning at a press breakfast that attracted reporters from the likes of SmartMoney, CNNMoney.com, Fox and ABC News. 
ASI's Dave Vagnoni (pictured) did a great job demonstrating to reporters the innovative products businesses are using in 2010 to promote their companies and events - including a riding electric beer cooler that goes 10 mph. We actually rode it in Times Square and boy, did people go crazy for that cooler, which companies like Miller, Snap-on tools and Coors are using to draw attention to their products. At right, Melinda Ligos demonstrates.
Sarah Caplan, a 27-year-old entrepreneur who started Footzyrolls (asi/54915) with her sister, joined us to talk about her fantastic new roll-up shoes, which actually fit in a clutch and are perfect for high-heeled women who need a break. Footzyrolls are even being included in gift bags for the upcoming Sex and the City 2 movie.

The video also shows off Celebarktion Gourmet Pet Treats. We brought a chocolate lab to our press event and she just loved these dog treats, which are very large, pretty tasty (Dave took a bite) and actually imprintable.
As we told the press, promotional products provide the best ROI for your dollar. No wonder they're being used to promote everything from American Idol to the Oscars. They really work!
Tell me your favorite products from the New York show by posting a comment or emailing me here. I'm also on Twitter, LinkedIn and YouTube.