Hot Orlando Product Videos and Interview With General Powell
Tuesday January 5, 2010 | Filed under: ASI Shows, Industry Initiatives, News About ASI
The last day of ASI Show Orlando is upon us and by all accounts education day (more than 60 learning opportunities!) and networking have been above par. This morning, a packed house greeted General Colin L. Powell, USA (Ret.), the former Chairman of Joint Chiefs of Staff and Secretary of State.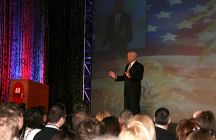 Show-goers hung on the general's every word during his keynote, "Leadership: Inspiration for Extraordinary Times."  A standing-room-only crowd of more than 900 distributors, suppliers and decorators cheered as the Bronx-born four-star general told stories of overcoming challenges to lead organizations of all sizes - from a few dozen people to millions - through stressful times that required change, development of new solutions to problems and seeing beyond today.
He cautioned the audience to avoid looking back in rearview mirrors, advising that looking forward is the only way to succeed.   Giving your "followers" - whether they're colleagues, family members or customers - superior tools, products and support is the way to win in a difficult economic climate.
To watch Counselor editor Andy Cohen's interview with Gen. Powell, click here.
And last night, we also enjoyed a really fun fashion show - ASI's third march down the runway.  For photos, click here.
In addition, I'd like to share four "Tim's Takes" videos, shot right after my "Hot Seat" interview with Mark Godsey, president of Gold Bond and this year's just-named Supplier of the Year.  Mark gave us the inside track on what his company is doing to thrive, his 2010 outlook, and Gold Bond's focus on customers - the true VIPs.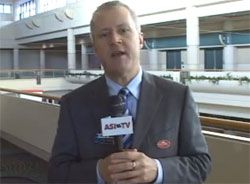 Straight from the Advantages New Product Showcase, hot products highlighted in the videos include:
Pocket-sized hand sanitizer from Custom HBC (asi/47935), which won in the Health & Beauty Category at the Counselor Distributor Choice Awards.  This handy item is huge seller right now in the flu season.
A two-in-one pocket calculator and business card holder from Bullet (asi/42424), a Distributor Choice Awards finalist.  I just love combo products and this is really innovative - and practical.
The nitro tumbler from Gold Bond (asi/57653), which keeps ice up to 15 hours without melting.  I tried it this week and it really does work.
Tell me what you think is this year's hottest product by posting a comment or emailing me here.  I'm also on Twitter, LinkedIn and YouTube.