Hats Off to ASI Show San Diego
Wednesday February 24, 2010 | Filed under: ASI Shows
I gotta hand it to our members. When they chose San Diego a "top choice" for a trade show, we quickly added it to our 2010 roster. Today, we kicked off our inaugural San Diego show and by all indications, it's shaping up a winner.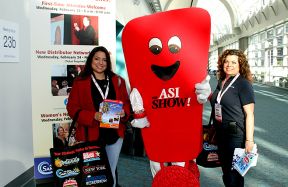 California is home to the largest number of distributors and suppliers so I wasn't surprised more than 300 exhibitors - including a number of Counselor Top 40 suppliers - are attending our show, the first of the year held in the Sunshine State.
Questions and answers, info and ideas flew at the education workshops at the San Diego Convention Center, where the show continues through Friday. I'm especially looking forward to the Tony Robbins motivational keynote and the gala at the Stingaree Nightclub. The joint will be jumpin'.
If I had any time off the show floor, I might check out the panda cub at the San Diego Zoo or stroll along the city's 70-mile shoreline. If you're here with us in California, I hope to see you at one of our many networking events. If not - there's always next year!
Tell me your favorite California experiences by posting a comment or emailing me here.  I'm also on Twitter, LinkedIn and YouTube.