Green is Good: The Green Catalog is Here
Wednesday April 7, 2010 | Filed under: Community, Industry Initiatives, News About ASI
"Going green" can mean a lot of different things, from buying organic produce at your local supermarket to overhauling your company so it's as energy efficient as possible.  "Green" is such a hot concept, 4 in 5 small to medium size businesses now offer some sort of green products or services.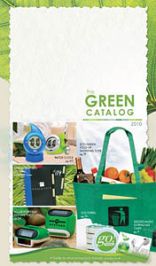 Here at ASI, during the month the world celebrates Earth Day, we're issuing our 2010 edition of The Green Catalog, which consistently sells out, year after year.  These days, environmentally-conscious buyers want green products that are useful - and clever - and this catalog really delivers.
Inside, you'll discover more than 120 eco-friendly items, ranging from seed packets to products made from fast-growing and renewable bamboo (it grows up to 4 feet a day!). 
Flip through and you'll find pencils made from recycled tires, water-powered clocks, stapleless staplers and even watches powered by a mercury-free battery.  Want to reach a music loving audience?  Try the seeded music download cards.  Download your tunes - then plant the card in the ground and watch it grow.
A price index in the back of the catalog makes it easy to choose products to match any client budget.  Products are also grouped by easy-to-use categories, including food and drink, outdoors, trade shows, bags and briefcases, clocks and watches, office, sports, travel, and home.
The book ships free from now until April 15, and a free digital version comes with the print purchase.  The front of each copy can be imprinted in full color with the distributor's logo and contact information, and ASI offers this feature year-round.
And in further response to the ever-growing demand for eco-friendly products, ASI now features a pavilion at our five super-regional trade shows dedicated to showcasing only green products.
To order The Green Catalog online and to see sample pages, click here.  The catalog- circulation 135,000 - has already sold over 100,000 copies, so don't wait too long to order yours.
And let me know what green products are working for you by posting a comment or emailing me here.  I'm also on Twitter, LinkedIn and YouTube.