Education Is the Key to Success
Wednesday September 22, 2010 | Filed under: Education, Industry Initiatives, Member Benefits, News About ASI
We just took a giant step toward boosting the professionalism level of every member of our industry. Starting now, distributors, suppliers and decorators can work toward the industry equivalent of a bachelor's and master's through a brand-new education initiative: the Advertising Specialty Institute Certification Program.
The program is free, all-encompassing and user-friendly. And the virtual component means anyone can take part – from anywhere and at any time. What better way to impress new and existing clients than with proof of your industry knowledge?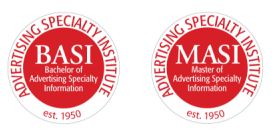 The demand is clear. In 2010 alone, 4,600 distributors took more than 16,000 live education courses at our trade shows, making ASI the largest educator in the $16 billion ad specialty industry. And no matter where I am, I hear from members who have a burning desire for more.
 This latest initiative is all part of our ongoing commitment to educating our members. ASI already invests about $1.3 million a year on education, and this new program is expected to cost another $100,000. What's incalculable is the value of the skills needed to out-think, out-perform and out-service the competition.   
Tuesday afternoon, I held a heads-up conference call with members of my inner circle and almost immediately started receiving emails from people excited about the certification, which we formally announced during a special ASI Internet Radio show this morning and during today's Virtual Trade Show, from 10 a.m.-3 p.m. ET.
For answers to just about any question and even more info, click here.
Here's how the Advertising Specialty Institute Certification Program works:
BASI (Bachelor of Advertising Specialty Information)
BASI certification courses serve as a solid foundation for all ASI distributors, suppliers and decorators. The BASI curriculum will arm them with the fundamental knowledge they need to thoroughly understand and navigate the promotional products marketplace profitably, and develop solid relationships with their colleagues that will help them prosper in the industry.
MASI (Master of Advertising Specialty Information)
MASI certification courses provide ASI distributors, suppliers and decorators with advanced knowledge of the advertising specialty industry. MASI holders are recognized as the true industry experts who've cultivated profitable and collaborative relationships with distributors and suppliers. This designation is a testament to their contributions to the advertising specialty industry.
Both live and online ASI Education courses qualify for credit. Candidates must complete certification within three years of beginning the program. Following defined guidelines, courses taken at a past ASI Show, on the ASI Education Online Learning Center, or completed at major industry events, such as the PPAI Expo or regional association conferences, will be eligible for transfer.

There's more. ASI members who earn BASI and MASI certifications will also qualify for numerous perks, like invitations to exclusive cocktail receptions at ASI Shows, VIP access to select events, advance copies of ASI surveys and research, and conference calls with me.

In addition, you'll get a certificate ready for framing and authorization to add BASI or MASI to your title, website, business cards and the like. 

You can start the certification process right now.

Go to www.asicentral.com/education for a complete overview of ASI Education. ASI members can take advantage of a full slate of online offerings, including webinars, video packages and ASI Radio programs on the ASI Education Online Learning Center (www.asicentral.com/education).

We're also offering educational sessions at the ASI Power Summit, taking place November 7-9 in Florida, in addition to live courses offered at all ASI Shows in 2011.

Please get in touch if you have any questions or need more info, and let me know what you think of the program by posting a comment or emailing me here. I'm also on Twitter, LinkedIn and YouTube.