Educating San Diego on FOX TV
Thursday February 25, 2010 | Filed under: ASI Shows, Media Coverage, News About ASI, Using Ad Specialties
There's a noticeable vibe on the show floor here at ASI San Diego, so much so that FOX 5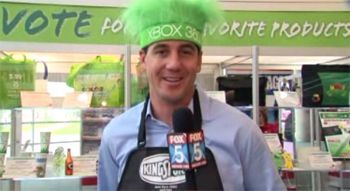 dispatched a crew to the convention center for a segment on products catching everyone's eye.
Click here to watch the video.  And click here for photos and info about the products featured on-air, including:
Guitar Shirt, from Think Geek (asi/91123).  Strum and play the front of this unique shirt, sure to be a hit with music fans and aspiring Van Halens. 
Eco-Friendly Golf Balls, from Phoenix Sports Promos (asi/77961).  The culmination of efforts of scientists to deliver the first "eco-friendly" ball to actually perform on the course.

Foaming Hand Sanitizer, from Humphrey Line (asi/62050).  Comes in a clear bottle with a white pump-top and is great for people on the run.
Elephant Poo Journal, from Spector & Co. (asi/88631).  Perfect-bound 3"x5" jotter has a hard cover and 32 blank sheets made from 100% recycled and odorless paper.  And, yes, it's actually made from elephant poo.
BBQ Set with Apron, from Gold Bond Inc. (asi/57653).  Includes a large spatula, and fork and tongs with wooden handles.  Perfect for tailgaters and grill-outs.
Spirit Hair, from Vonco Products (asi/94180).  Mohawk-style hair attached to a matching headband.  Ideal for parades, fund raisers, parties and festivals.
Let me know your favorite products by posting a comment or emailing me here.  I'm also on Twitter, LinkedIn and YouTube.