Educating End-Buyers Through Media: CBS TV
Tuesday February 16, 2010 | Filed under: Media Coverage, Members, News About ASI
The media stampede continues, with Orlando's CBS station featuring five promotional products for Valentine's Day from ASI member companies.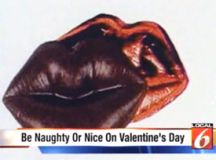 In a feature devoted to naughty and nice gifts, the consumer editor showcased a number of promo products on-air and posted full descriptions and contact info on the station's website.
Click here to watch the video.
No matter what the calendar says, you can make every day Valentine's Day with products like Sexy Water, the Bling Travel Mug, the Romantic Evening Intimacy Kit, a Contrast Color Thong, Chocolate Lips, Tangle Love Keychain, Little Black Book of Sexy Secrets, Sex on the Beach Kit, a Red Heart USB Drive and the Silhouette Girl Flashing Pin. 
For photos of each product and more purchasing information on ASICentral, click here.
I'd love to know what products you enjoyed most, so post a comment or email me here.  I'm also on Twitter, LinkedIn and YouTube.