Counselor Distributor Choice Award Winners and "Tim's Take" Video
Monday January 4, 2010 | Filed under: ASI Shows, Industry Initiatives, Members, News About ASI
We're having a terrific time at the first show of the year in Orlando, despite getting caught in the same cold snap hitting the rest of the nation. Last night, we warmed things up by honoring the industry's best at the 2010 Counselor Distributor Choice Awards and presenting the Supplier of the Year award to Gold Bond (asi/57653).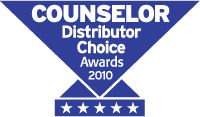 The awards recognize the most-valued ASI suppliers in 50 product categories, as determined by ASI Supplier Performance Ratings and votes cast by over 2,500 distributors (a record for the competition).  Nearly 150 finalists were recognized and 51 suppliers were named winners at a really fun ceremony.
For the list of winners and finalists, and to view some awesome photos, visit asicentral.com/dcawards. 
Also take a look at a new video we just posted called "Tim's Take," which offers my insight into the industry and the new year, based on an interview I did for ASI TV with Editor-in-Chief Melinda Ligos.
As I say in the video, as we greet 2010 and the first trade show of the year - which is shaping up as a success - I'm bullish as ever.
Please let me know your outlook for 2010 by posting a comment or emailing me here.  I'm also on Twitter, LinkedIn and YouTube.