Cool Products From Hot Sponsors
Friday July 16, 2010 | Filed under: ASI Shows, Using Ad Specialties
How do you determine what's hot? Counselor magazine editors tackle that question every year when devising their annual list of the hottest people, products and ideas in the ad specialties industry.
Luckily, our editors have a lot to choose from, given the high "cool factor" inherent in this business. At the HOT Party, held this week at the ASI Show in Chicago, we got a look at a number of innovative products, including several from our party sponsors.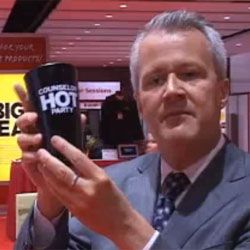 For a look at the sponsors' products, click here to watch my Tim's Take video, which features:
Military distressed visor cap. From Otto International Inc. (asi/75350). A snappy-looking cap made of washed pigment and cotton twill with a matching fabric adjustable hook-and-loop closure.
Soft mesh-back cap. Also from Otto. Since it features a soft, low-fitting crown, this cap pulls down and looks really nice. And I love the pro stitching on the front.
 16 oz. glitterware pint glass. From Sabina (asi/84470). This is a terrific addition to any party. Our guests had great fun checking out the effect that liquid has on the inside mirrored finish.  
Personalized M&M tin. From MY M&M'S|Mars Direct (asi/68888). You can imprint anything on these candies, from faces to quirky sayings, which makes for a wonderful leave-behind, as we found out at the party.
 Full-color custom-labeled energy drinks. From BamBams (asi/38228). Perfect mixers for any event. Customizable and very cool.
 Let me know your favorite cool products by posting a comment or emailing me here. I'm also on Twitter, LinkedIn and YouTube.