Celebrate the Top 10 U.S.-Made Promo Products
Tuesday June 22, 2010 | Filed under: News About ASI, Using Ad Specialties
Not long ago, The New York Times asked "Is anything made in the U.S.A. anymore?" Their answer? "You'd be surprised." I know I was.
The U.S. remains by far the world's leading manufacturer by value of goods produced. For every $1 of value produced in China factories, the United States generates $2.50, the Times said.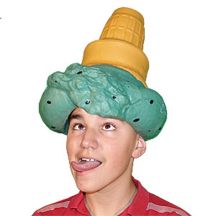 ASI is happy to do its part with its first-ever Top 10 list of promotional products made in the U.S., proving once again that the innovative American spirit remains in full force when it comes to promo products and creative ad campaigns.
Just in time to celebrate summer and Independence Day, here's our list of Top 10 Made-in-the-USA Products:
Ice Cream Cone Hat: Fun, goofy hat is the perfect promo for ice cream shops.
Fireworks Fan/Viewer: Hand fan cools user and viewer enhances rockets' red glare.
Picnic Stick: Jams into the sand or campsite to hold beverages without a wobble.
Head Lamp: Look out for bears! Great for hands-free campsite lighting and giveaways.
Flying Disc: For beach and outdoor promos, Frisbee golf courses or leagues.
Kite: Go fly one at your next corporate picnic. Comes bagged for easy hanging.
Igloo Cooler: Terrific addition to tailgating promotions.
Picnic Backpack: Party on-the-go with this catch-all backpack.
Flashing Buttons: Lights up any nightclub promotion.
Freezer Pop Mold: Perfect reminder for motels and hotels.
To see photos of the products and purchasing information for each, click here. To read our press release, click here.

What's your favorite U.S.-made product? Let me know by posting a comment or emailing me here. I'm also on Twitter, LinkedIn and YouTube.