Celeb Marketers=Sales
Thursday September 2, 2010 | Filed under: Education, News About ASI, Using Ad Specialties
As ASI's Successful Promotions reports in this month's issue, when it comes to marketing, sex still sells. And if you've got a sexy celebrity hawking your goods, look out: You just might make international news.
In addition to a list of the 10 sexiest celebrity marketers, Successful Promotions details five successful marketing campaigns that incorporated sexy themes. The scintillating promotional products featured include Sexy Water and the "candom," a can cooler shaped like an oversized condom.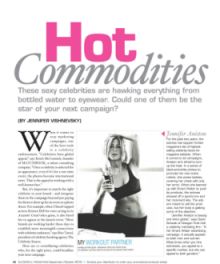 To read the Successful Promotions "Sex (Still) Sells" issue, click here.
The reports were written by ASI Staff Writers Jennifer Vishnevsky and Daniel Walsh, who interviewed a slate of marketing experts about celebrity appeal and the role of sex in advertising. The key is to match the right celebrity to your brand – and integrate them in the campaign beyond just paying for them to show up for an event or a photo shoot.
While there's no guarantee that star power will translate directly into super sales, a successful sexy campaign can have a huge impact on the bottom line. As Walsh reports, Calvin Klein's sales increased by 275% after the clothing company ran ads in 1980 featuring a young Brooke Shields saying, "You want to know what comes between me and my Calvins? Nothing."
Here's our list of the Top 10 Sexiest Celebrity Marketers:
Jennifer Aniston. The former Friends star is promoting her new scent, Lolavie, and appearing in Smart Water campaigns.
Patrick Dempsey. "Dr. McDreamy" is the spokesman for Versace and appears in ads for Serengeti eyewear and Unscripted, a line of colognes for Avon.
Mike "The Situation" Sorrentino. The ab-fabulous Jersey Shore star charges $7,500 and up for an event appearance sure to attract the paparazzi.
Lady Gaga. The Twitterific pop sensation is now creative director of Polaroid, and has lent her name and image to Virgin Mobile, Monster Cable and Viva Glam by MAC Cosmetics.
Cristiano Ronaldo. The Portuguese soccer stud is the official worldwide spokesmodel for Emporio Armani underwear and Armani Jeans.
Megan Fox: The star of the blockbuster Transformers is the face of luxury brand Armani.
Isaiah Mustafa: Portrayed as "The Man Your Man Could Smell Like," the former NFL player helped Old Spice cologne become the number-one all-time most-viewed sponsored channel on YouTube.
Sandra Bullock: The Oscar winner is the face of Artistry Crème LuXury, an Amway company that hopes its connection to the A-lister will elevate its brand status.
Scarlett Johansson: The starlet evokes Marilyn Monroe in Dolce & Gabbana perfume and makeup ads, and is the new face of Moët & Chandon champagne.
Paris Hilton: The hotel heiress lent her mug to campaigns for Guess and restaurant chain Carl's Jr. and reportedly gets up to $500,000 for appearances.
Successful Promotions  is read by more than 50,000 corporate marketers throughout North America who are looking for innovative techniques and products to promote their businesses. As an added-value service, more than 800 of ASI's biggest distributors have a gift subscription for Successful Promotions sent to their biggest clients.

Let me know who you think is the hottest celebrity marketer by posting a comment or emailing me here. I'm also on Twitter, LinkedIn and YouTube.