ASI Show New York: A World of Wonderful
Thursday May 6, 2010 | Filed under: ASI Shows, News About ASI
I'm pleased to share the news that our New York show - which just closed - posted a strong attendance of 2,500 distributors from 1,177 firms.
All told, distributors were drawn to ASI New York from 38 states and 13 countries, including 49 from Canada, six from Trinidad and Tobago, five from Russia, as well as others from Columbia, Honduras, the Netherlands, Sweden, Turkey and the United Kingdom.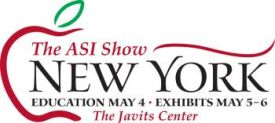 With thousands of new products and services for the start of the second half of the year, along with three days of free, industry-specific education, ASI New York delivered 344 suppliers, including 112 exhibitors who weren't at ASI New York last year and 178 not exhibiting at Promotions East.
You know you've put on a good show when participants like Michelle Mickelson, of Dard (asi/48500) uses words like "terrific" to describe the show floor action. Jason Emery, of Logomark (asi/67866), told us, "This show has been fantastic.  There aren't many shows out there where we can write orders right on the show floor."
And Harry Rosenberg, of Ariel (asi/36730), who was honored at the Counselor awards with the Marvin Spike Lifetime Achievement Award, said they were so busy he had three people working the booth.
Distributors like Ross Silverstein, of iPROMOTEu (asi/232119), loves coming to the city because there's so much to do and said he left the show pumped up for the summer sales season.
To read the press release with all the results, please click here.  And don't forget - it's never too early to register for our next show in Chicago July 13-15.
I'd love to know your favorite part of ASI Show New York, so please post a comment or email me here.  I'm also on Twitter, LinkedIn and YouTube.