ASI San Diego Launch Exceeds Expectations
Friday February 26, 2010 | Filed under: ASI Shows, News About ASI
I'm very happy to report ASI's inaugural San Diego show just wrapped up after attracting more than 2,200 distributors, exceeding early projections.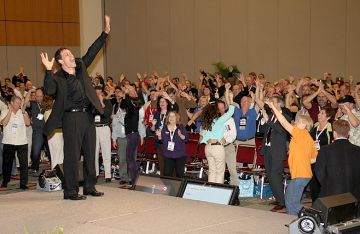 Distributors were drawn from about 1,000 firms across the nation and many had great things to say.  Stephanie Critchfield, from The Vernon Company, asi/351700, enjoyed visiting with over 300 leading suppliers on the show floor and said, "The proximity for our California reps is terrific.  They are so excited to have a California show."
Ross Silverstein, from iPROMOTEu, asi/232119, loved San Diego - and seeing all the hot new products.  And Beverly Walter, from Brown & Bigelow, asi/148500, is already planning for next year's San Diego show:  "The show is great.  We will definitely do it again!"
The show attracted more than 300 exhibitors and opened with more than 500 people attending a full day of 55 educational seminars and workshops (sponsored by Fields Mfg., asi/54100 and MediaTree, asi/70303). 
Attendees also enjoyed a number of spirited networking opportunities, including one at the fabulous Stingaree club, one of the hottest dance places I've been to.
Highlights of the three-day show included a standing-room-only keynote by legendary life coach Tony Robbins (pictured), who brought the crowd to its feet with empowering advice on achieving outstanding success through passion, focus and action.  
Let me know what you thought of the show by posting a comment or emailing me here.  I'm also on Twitter, LinkedIn and YouTube.