ASI Named a "Best Places to Work"
Friday March 19, 2010 | Filed under: Community, News About ASI
There's no doubt tough times cause businesses to ask a great deal of employees.  So it was especially gratifying to me that so many of our employees recently voted ASI one of the region's "Best Places to Work."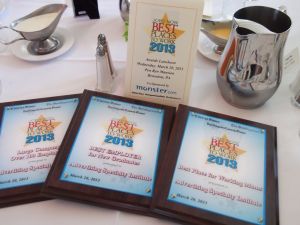 Greater Philadelphia Media sponsored a contest to recognize top employers, based on employee nominations.  Altogether, more than 100 local companies received nominations.  In the end, ASI was nominated in nine categories and won the "Best Places to Work" award among companies with more than 200 employees.
This week, our human resources department (pictured, along with me and ASI vice chairman Matthew Cohn) picked up the award and enjoyed a celebratory luncheon.  We all share this award with Carol Albright, our SVP of HR, her team and everyone who works here.
When employees talk about why they like working at ASI, they usually mention benefits like our on-site day care, training classes and wellness program, which rewards participants for things like going to the gym and stopping smoking.  And four times a year, we recognize individual employees or teams for outstanding efforts and accomplishments.
Not surprisingly, a lot of companies are cutting back on such programs, thinking it's a way to save some money.  But, as a recent story in ASI's Successful Promotions magazine shows, companies are wise to continuously reinvigorate their incentive and recognition programs to keep loyal employees.
ASI's Counselor magazine also has "best places to work" competitions - for the promotional products industry - and you learn what past winners have done correctly in their profiles here.
Let me know what your company does for its employees by posting a comment or emailing me here.  I'm also on Twitter, LinkedIn and YouTube.