ASI Mags Continue Winning Streak
Friday November 19, 2010 | Filed under: News About ASI
It's always great when your kid's soccer team kicks butt on the field. But when they score big against the best players in the league, great becomes phenomenal.
And phenomenal is pretty much how I felt when I learned three of ASI's magazines will be honored among heavy-hitters like Inc., Entrepreneur, Bloomberg BusinessWeek, Sports Illustrated and Travel + Leisure at the upcoming FOLIO: magazine awards.
This week, FOLIO: announced that Wearables, Stitches and Advantages won four awards in a field crowded with more than 2,000 entries.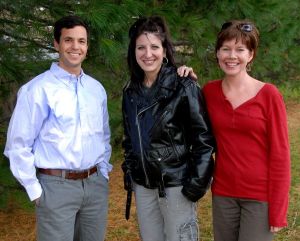 The FOLIO: competition is the largest and most inclusive awards program of its kind in the industry. Its annual award program -- spanning all corners of the magazine publishing industry -- recognizes the very best in editorial and design.
 Wearables, edited by C.J. Mittica, won a "Best Full Issue" award for October 2009. Stitches, edited by Nicole Rollender, won a "Best Full Issue" award for May 2009 and an award for "Best Single Article." Advantages, edited by Kathy Huston, also won an award for "Best Single Article" for its "Energize Your E-Mail" story.
 The editors, pictured at right, with Nicole in the middle, will be honored alongside all the other winners with either a bronze, silver or gold award during an awards luncheon set for January 13 in New York City.
Our editor-in-chief, Melinda Ligos, says of the accomplishment: "This continues a long award-winning streak for ASI's editorial department. For the past four years, we've received awards from all of the major business magazine awards programs, including 14 awards from the American Society of Business Publishing Editors earlier this year. These awards are a testament to the consistent talent, fresh ideas, and hard work of our entire editorial team."
I couldn't agree more. Congratulations, everyone.
If you have a favorite story or issue, let me know by posting a comment or emailing me here. I'm also on Twitter, LinkedIn and YouTube.